Playing Rhythm and Roots Heritage Stage Saturday at 5:15 pm and Sunday at 9:45pm!*
Combine a hefty helping of Tex Mex conjunto, simmer with several parts Texas rock, add a daring dash of well-cured blues, and R&B riffs, and you've cooked up the tasty Grammy winning Texmaniacs groove. 
Founder Max Baca (bajo sexto, vocals) is a legend on the bajo sexto, a twelve string guitar-like instrument, which customarily provides rhythm accompaniment for the button accordion, thus creating the core of the conjunto sound. Max is being credited as turning a traditional folk/roots/conjunto instrument hip again, attracting young, new audiences while maintaining his roots in traditional conjunto.  Other band members include Josh Baca, Oscar Garcia, Lorenzo Martinez and Willie J. Laws.  Their latest CD is Texas Towns & Tex Mex Sounds.
Band Lineup: Max Baca – bajo sexto, vocals   |   Oscar Garcia – bass, vocals  |  Josh Baca – accordion, harmonica  |   Lorenzo Martinez – drums, vocals  |   Willie J. Laws – blues guitar
These Guys play a fantastic "Tex Mex Blues,"  a genre  indigenous to South Texas, particularly San Antonio and regions south thereof.  Check out the tonal banter between electric guitar and bajo sexto (baho sexto) on this video.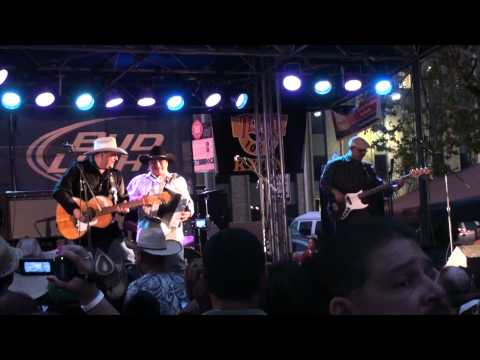 More about Los Texmaniacs  website | 
________________
16th Annual Rhythm & Roots Fest:  Featuring Legends of Roots Music:  Taj Mahal, The Jim Kweskin Jug Band, Albert Lee and Steve Earle, plus all the best in "Gulf Coast Music"   Like a Road Trip to America's music hot spots right in Rhode Island!
Rhythm and Roots Music Festival in Charlestown, Rhode Island
Friday-Saturday-Sunday
August 30, 31 and September 1, 2013
Ninigret Park in Charlestown, Rhode Island
tickets  |   camping info   |   R&R on facebook
* times/stages are subject to change. At the fest, please stay tuned to social media (facebook & twitter) for updates!